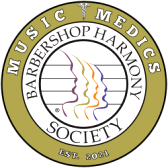 BHS MusicMedics Minutes June 23
The BHS Music Medics met virtually on 23 June for our quarterly meeting. Those in attendance included:
Nashville Music Medics: Wayne Jackson, Sam English
Kanawha Kordsmen, West Va: Ron Williams
Chorus of the Genesee, New York: Becci Miller
Big Chicken Chorus, Marietta, GA: Frank Hrach
Land of the Sky Chorus, Nashville NC: Beverly Greene
Trounce Island Music Medics QT, Victoria British Columbia, Canada: David Christmas
Absent but there in Spirit:
Joyful Sound Music Medics QT, Greensboro, NC: Charlie Terrell
Singing Capital Chorus, Washington D.C: Marc Wolfson
A lively discussion ensued as we did a quick whip around, having everyone in attendance tell the
assembled Medics about their respective programs.
Ron Williams reported the Kordsmen have begun weekly visits to their local children's hospital. Those visits started about 2-weeks ago.
Frank Hrach told us their local children's hospital is still not allowing visitors. They're still trying to pull things together.
Becci Miller explained her group has just started visiting the nearby VA hospital. The group itself has expanded to include singers from H.I. and her local Chamber choir.
Bev Greene reported they have between 8-10 singers at every rehearseal. The group rehearses every other week. However, they're not allowed into hospitals or the VA in the area. They have an additional 4 singers who are not registered with the Society.
Wayne Jackson and Sam English provided a short update, mentioning that all of our reporting is sent out to everyone via our website.
New Medic David Christmas, who arrived late, explained they're having real difficulty getting into their hospitals due to the way the Canadian Medical system works. I told him try the local Asst. Living or Hospice facilities.
Both Charles Terrell & Marc Wolfson submitted updates to me that will be included later in these notes.
Additional discussion regarding best days to rehearse, repertoire and where else we can sing if we're having problems getting into the hospitals. Wayne & Sam mentioned that NMM has been very successful in singing in the Asst. Living/Hospice facilities, but it takes a lot of commitment and leg work in order to make that happen. Becci noted their success at the VA.
The hot topic of the evening was the update from Charlie regarding his news of the local children's
hospital's recent decision to stop having his Medics come and sing. The group believed the best approach for Joyful Sound was to try the local Asst. Living/Hospice facilities, as well as a possible
rebranding/marketing of the Joyful Sounds QT approach to the children. Wayne and Sam are trying to contact Charlie to see what the root problem is, and offer whatever help they can.
From Singing Capital Chorus, Marc Wolfson:
Wayne,
Sorry I couldn

'

t join you tonight. I was on my chapter

'

s monthly board meeting Zoom session at the same time as your meeting.
I

'

m happy to report that we

'

re making a little headway here in Washington, DC.
I

'

ve recently heard from the staff at the National Children's Hospital. While they are still not allowing any performers inside the facility, they are starting to schedule musical performances in their rooftop healing garden. I

'

m in the process of filing out the required paperwork for one of our quartets to get on the
schedule.
I

'

ll let you know if and when this happens.
Yours in Harmony,
Marc
From Joyful Sounds QT, Charlie Terrell:
Dear Wayne and Music Medics colleagues,
Greetings from Greensboro, NC, and our "blast furnace" weather!
Unfortunately, I will not be able to join the Zoom Session tomorrow evening; I'm sure you'll enjoy catching up across the miles!
I'm writing to request your "Group Wisdom" if you're willing to share your thoughts with me. Due to on-going hospital policies regarding COVID, our MM Quartet "Joyful Sounds" has not been able to return to sing in the Pediatrics Unit of our local hospital.
I have asked often about this restriction and when/if it would change. Last Friday I received a communication from the Recreation Therapist for the Unit. She stated that she now does not feel "that this barbershop quartet program caters to the common interests of our pediatric population."
She wrote also that she "cannot add it back to our schedule on a regular basis at this time." She concluded that we might be included "sometime in December for holiday music if we are able to provide such programs at that time." As you might imagine, I am crushed by this news and attempting to sort out many feelings.
Have any of your MM groups experienced this from your hospitals? I'll be grateful for your replies. I have reached out to the Guest Services Director to see if there are other areas of the hospital in which we could sing on a regular basis.
Thanks in advance for your help.
Blessings for all you do as Music Medics!
We happily said our goodbyes around 8PM CST!
N.B. Just spoke with Charlie Terrell about his situation. As I suspected the problem was the hospital and their Recreational Therapist and nothing that Charlie and the Joyful Sounds QT had done. No reason was ever given for stopping the relationship with the children. Charlie, as I already knew, was working the program exactly as the manual suggests, including the music. He is in contact with the Guest Services Director to see if there are any other places within the hospital where they might sing. Additionally, Charlie will be putting in the time to get out and see what other venues are available where the Joyful Sounds QT could sing.
I'm fairly certain that Charlie and his crew will be successful at finding those places where they can spread the joy that only the Music Medics can.
Respectfully Submitted:
Wayne Jackson, BHS Music Medic Rep.